Engineering
Engineering activities focus mainly on two distinct missions:
Developing the high-pressure transportation network
Providing engineering services when implementing gas installations on behalf of our customers and partners
Developing the high-pressure transportation network
The Engineering department manages all development projects carried out on the Gaznat network, as well as specialist services on behalf of third parties and customers.
Welding a gas pipeline
The Engineering department has drawn up a ten-year master plan which analyses the Gaznat network and its future prospects. This plan is updated regularly and sets forth a number of improvement plans which will be carried out in response to the changing needs of gas customers.
Engineering services for our customers
In addition to the projects carried out for the Gaznat transportation network, some services are provided on behalf of third parties. This applies to metering and regulating stations (MRS), which deliver gas at a pressure compatible with urban distribution pipelines or industrial installations. In such cases, Gaznat acts as the principal contractor for the project owner (e.g. a distributor).
Thanks to its experience, Gaznat becomes involved as soon as a project is launched and works with the project owner to prepare the technical specifications. Since such projects are usually multidisciplinary, several experts from a variety of sectors participate. For a new regulating station, the electrotechnics, metrology, remote data transmission and cathodic protection sectors are also heavily involved with the project, even though the installation is largely mechanical.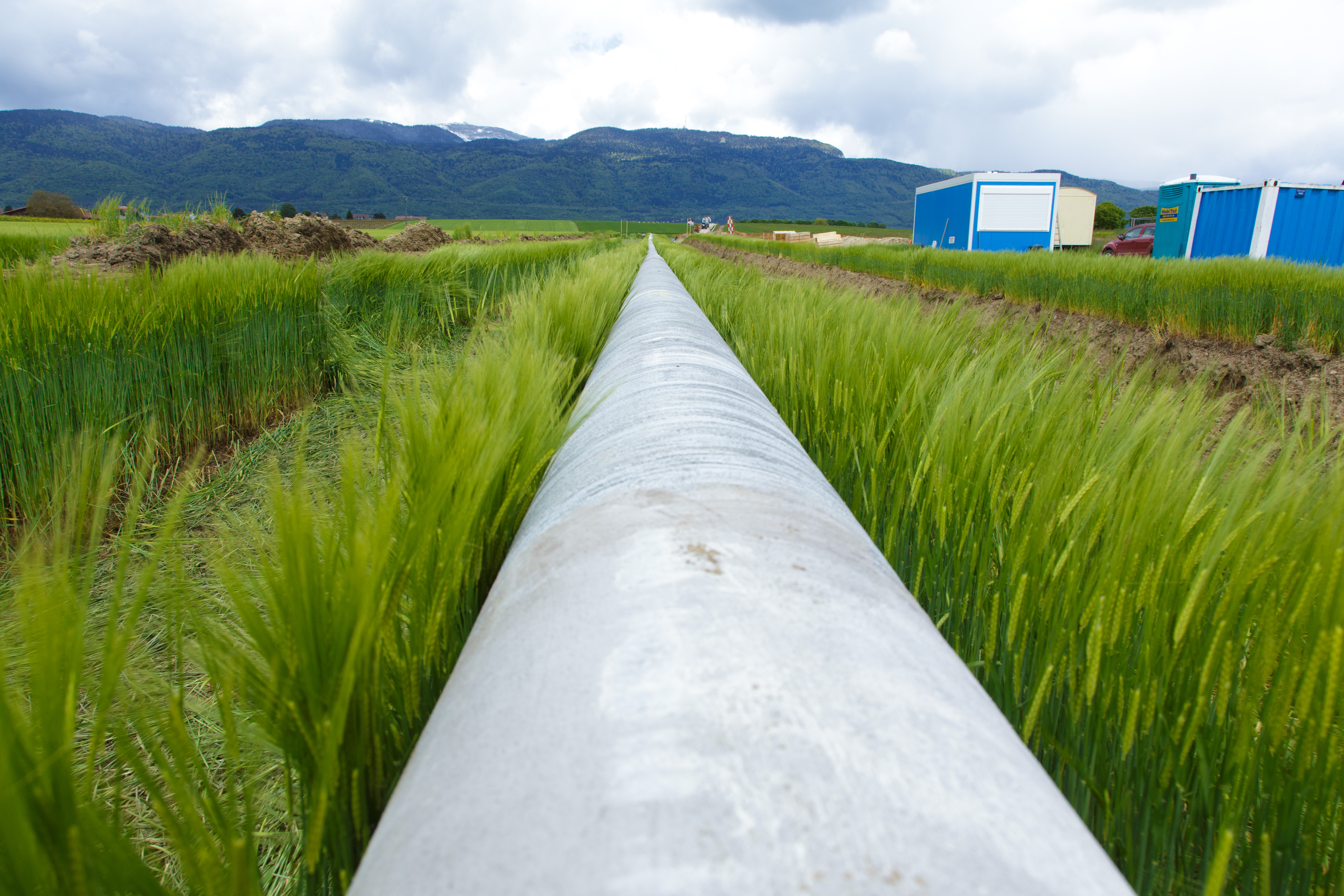 Working on a gas pipeline
Once the work has been completed, Gaznat organises tests under the auspices of the supervisory authority, and then hands the construction over to the project owner and the teams who will operate the installation. When a metering and regulating station is installed, Gaznat employees are also responsible for operating it.
Safety
Safety is of paramount importance when working with gas. Our safety measures are based on the directives of the Federal Pipelines Inspectorate (IFP) and the Swiss Gas and Water Industry Association (SSIGE), as well as Gaznat's internal safety regulations.
A damage control exercise is conducted each year. This enables the emergency teams to improve their performance regularly.
Security of installations
In addition to the exterior insulating cladding, active cathodic protection is used to ensure that steel gas pipelines do not corroded.
Furthermore, an internal check is conducted every ten years to monitor the gas pipelines for damage. Smart pigs are used to record dents or irregularities in thickness.
An odorant is added to help reveal leaks (since gas is an odourless substance), so the presence of gas can be detected well before it reaches dangerous levels. If a smell of gas is detected, the operator of the installation concerned must be contacted immediately.
The presence of gas pipelines is identified by marker posts carrying an emergency telephone number and identification code.